Shipping to United States: 12.50 € (Standard shipping (no tracking), 2 - 3 weeks)
When purchasing the remote, a document will be sent detailing the relationship between the buttons of the original control and those of the replacement remote.
How do I know that the remote control performs all the functions of the original one?
Description
replacement remote control RC-260RR-190 (VZJ9000001) for Acer.
Brand
Brand:
Acer

Some of the models that use this remote are
Documents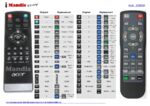 Remote control instructions
This remote control performs all the functions of the original remote control:
Power, e, Aspect Ratio, Freeze, Hide, Zoom, Resync, Source, Up / Keystone+, Down / Keystone-, Left, Menu, Right, 1, 2, 3, Vol UP, Vol DN, 0 / Mute, 4 / VGA, 5 / Component, 6 / Video, 7 / S-Video, 8 / HDMI, 9 / Wireless

It uses 2 batteries of the type AAA
1.5V alcaline batteries AAA LR03, used in a great majority of remote controls.
The remote control is packaged along with batteries (if ordered) in a bubble envelope for more protection. Shipping is done quickly and safely, ensuring, as far as possible, the delivery deadline. The invoice will be sent by email.
Frequently asked questions
Does this remote control perform all the functions of the original remote?
Yes, the replacement remote performs all the functions. If you see the keymap (instructions on the remote control) you can check that all the functions are present.
What is the Shift key on the replacement remote used for?
The Shift key allows you to double the number of functions that the replacement remote control can perform. For example, pressing Shift followed by the Power key (Shift + Power) performs a different function than when you press the Power key directly.
Not all the remotes need to use the Shift key, only those that due to their large number of keys can not execute all the functions with direct keys.
How can I know which keys of the replacement remote control perform the functions of the original remote?
When we send the remote control, we also send a document with the correspondence of the keys between the replacement and the original remote controls which allows you to know how to perform the functions of the original remote. Sometimes it is available on the web so you can download it.
Questions on remote Acer RC-260RR-190 (VZJ9000001)
Payment methods
We have several possible methods of payment
Read more
Shipping and delivery
When your order is completed successfully, we will send you the products as soon as possible
Read more